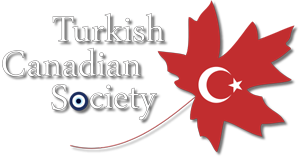 TCS (Turkish Canadian Society)
The Turkish-Canadian Society (TCS) is a registered non-profit charitable organization, in British Columbia. The vision of the Society is to help build a resourceful, compassionate, caring, vibrant community that embraces, nourishes, and supports all Canadians and to increase the public's knowledge and appreciation of the arts, cultures, languages, traditions, and history of Turkiye.
Since its foundation in 1963, the Society has organized numerous cultural events, participated in multicultural festivals, and collaborated with other organizations. The Vancouver Turkish Film Festival (VTFF) which started as a volunteer effort under the Turkish-Canadian Society in 2011 has become the leading cultural activity of the Society and one of the most successful and well-received ethnic film festivals in Vancouver. Last year, the Turkish-Canadian Society was awarded one of the most prestigious Arts and Cultural grants in British Columbia (BC Art Council – Arts Impact Grant) which is being used to achieve yet another successful VTFF in 2022.
The Society appreciates the exceptional volunteer efforts and dedication of the VTFF Organizing Committee and all other volunteers and community partners for their outstanding contributions. For the 9th VTFF, the Turkish-Canadian Society is honoured to be partners with the Simon Fraser University Woodward's Cultural Programs (SFUW) and the Vancouver International Film Festival (VIFF).

Vancouver Turkish Film Festival
After two years of being only available online due to Covid restrictions, the 9th Vancouver Turkish Film Festival will take place in person in theaters. The Gala night will take place on the 17th of November at the Vancity theater while the rest of the screenings of feature and short films as well as the panel will be at our usual abode, the SFU Goldcorp Centre for the Arts.
As a "melting pot" of many cultures for thousands of years, the land of modern Turkey has so much to offer from a cultural sense, and the 9th Annual Vancouver Turkish Film Festival is one of the ways to share Turkey's multicultural heritage with the residents of Metro Vancouver.
Turkish cinema has celebrated its centennial recently and flourished over the years. The success of Turkish cinema has been quite notable in the last few decades. The VTFF has also been a community partner to some of the Turkish films that premiered at the international festival in Vancouver.