VTFF Shorts - 10 Finalists
This year, as previous years, Seattle Turkish Film Festival together with the Vancouver Turkish Film festival made an open call for Turkish filmmakers. We had 198 short films submitted. Short film committee members from Vancouver and Seattle have collaborated to pre-select the top ten finalists .
It was an exciting journey to screen all the films and let the stories unfold.
This year, top winner will be awarded The Grand Jury Award and one film will receive The Audience Choice award on the screening day in Seattle and Vancouver.
Festival2Festival is an STFF and Vancouver initiative and was started to create a bridge between festivals and bring short films to North American Audience.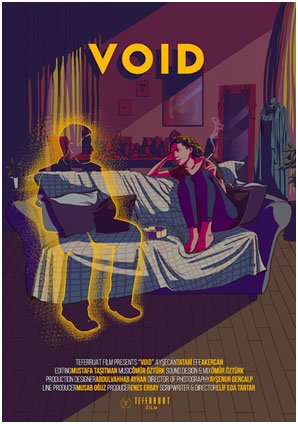 Director : ELİF EDA KARAGÖZ
Simge wants to breakup from her boyfriend Gürkan but cannot decide how to deliver the break up speech. She is rehearsing on her own, however it doesn't work. At that moment Halim, a delivery guy shows up at her door. As she discovers he is playful guy, Simge asks her to pretend as her boyfriend for just 10 minutes. Halim, who starts very hesitantly to play this pretending game, begins to warm up as Simge treats her as if he really is Gürkan. As the role of Gürkan takes Halim on, Simge forgets that this guy is just a delivery guy. Halim interrupts her break up talk a few times with his guesses, as a result of this they start to argue just like a couple. At the end, Simge delivers that she wants to break up. But Halim/Gürkan is not ready to split. He insists to stay together in his own way. However Simge is sure. He doesn't have a chance. Before he goes out he share a very intimate moment from his childhood with Simge and he leaves.
– Tirana Film Festival, Tirana, Albania, October 6, 2018
– Malatya Film Festival, Malatya, Turkey
– Akbank Short Film Festival, İstanbul, Turkey
– Afsad Film Festival
– LES the Lower East Side Festival of the Arts
– Cayenne Short Film Festival
– Lions Kısa Film Yarışması
– FESTIVAL INTERNACIONAL DE CINE DIGITAL EXPERIMENTAL DE ESPACIO ENTER
– Seattle & Vancouver Turkish Film Festivals Short Film Competition

Adem, builds himself a boat to go to an island. At the beach, he meets randomly with retired lighthouse keeper Turgut and Ufuk who has problems with his lover, Seher. They joins to boat's building process. The kid in the beach plays with his sand castle. While boat is building, Turgut has his questions.
Lighthouse International Film Festival, New Jersey, United States, June 5, 2019
America Premiere, Official Selection
Sunday Shorts Film Festival, London, United Kingdom, March 17, 2019
Competition, Vienna Film Awards, Wien, Austria, June 6, 2019
Best Producer Award
SHORT to the Point, Bucharest, Romania, February 28, 2019
International Premiere
Competition
Cefalù Film Festival, Palermo, Italy, June 1, 2019
Official Selection
Bucharest Short Cut Cine Fest, Bucharest, Romania, April 24, 2019
Competition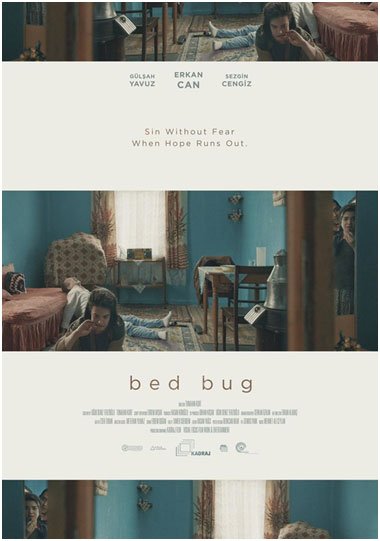 Doubts are more cruel than the worst of truths. (Jean B. MoIiere)
İdris and Hatice are the ordinary couple who live in a shantyhouse.AlthoughHatice is the woman who is frightened and bullied by her husband,İdris,she has a love affair with her husband's co-worker,Cemal.İdris who is a gambler sells the television at his home to pay his gambling debt. This incident concurs with his stealing his boss's money in the workplace.The boss compares İdris with other workers and dismisses İdris.Because selling the television is the only suspicious event.This sticks in his throat and İdris murders his boss.
Coming back home has already become a habit for İdris,but he comes home early that day.He sees her wife while she is removing her lipstick from her lips.At that point the home's window is open and it's north-east wind outside.The feeling of doubt has already started gnawing at his mind like a bedbug.

Chef Arthur, who is very sensitive to nature, is entertaining an important jury for dinner. Arthur who does yoga and kisses his flowers every morning turns into another character when he puts the chef apron on. He turns the kitchen into a battlefield while trying to cook the best food for the juries. There is no trace of this naïve man anymore. Arthur who is not even able to hurt a fly does not keep away from murdering animals and sacrificing anything for flavour when he steps into the kitchen.
33rd Edmonton International Film Festival
Edmonton
Canada
October 1, 2019
World Premiere
International Short Film Competition

Hasan is a locksmith, who owns a tiny store in Istanbul. A pretty girl who has lost her key comes at the closing hour one evening, begging for his help. Intrigued by her friendly interest, Hasan starts following her, almost as a stalker, to find another chance to get into her apartment.
15th Monterrey Film Festival
Monterrey
Mexico
August 15, 2019
World Premiere
International Short Film Competition

Leyla is a woman who defines herself through her boyfriend's eyes and tries to fit in man's world. After her boyfriend's several psychological violence Leyla feels ignored and overwhelmed by the pressure. Subsequently she meets a drag queen singer and follows him through the night who helps her to overcome her fear to be judged and she gradually gets out of her shell.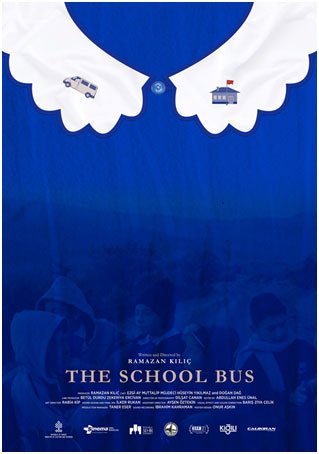 The School Bus is about a female teacher, who has just been appointed to a village school in Anatolia, decides to do a school bus driver for her students but she does not know how to drive!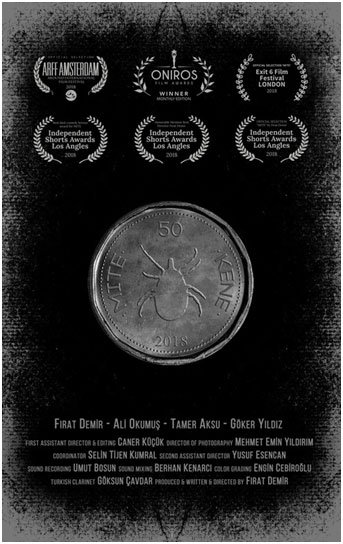 A guy tries to score some weed from the ghettos of istanbul but the angling quarters hooks and cleans him out like a fish and gives him a suprising lesson…

Mrs. Reyhan lost her wife,children and relatives who were discriminated against in the society where she lived as a minority in the past. . After several years, a researcher who wants to investigate the event reaches lady Reyhan and then wants to interview her about she was experiencing and comes to her home. Before the interview, Mrs. Reyhan goes to the kitchen to bring something to drink to the journalist, while the journalist who started to look at the photo album on the table finds traces of the past, in the kitchen, the fruit cut by Mrs. Reyhan helps with the traces of the past.

Director : Anıl Kaya – Özgür Önürme
With hours to go for the main news bulletin, Zuhal is preparing for the broadcast and Defne is running around after her. Vedat complaining about having to eat salad for lunch. Harun is nowhere to be seen, as always. All is going usual at TRN, except Çağlar talking about a news item that will make the water in the "aquarium" overflow.
Istanbul International Film Festival
Istanbul, Turkey, April 14, 2019
World Competition Selection
Antalya Film Forum, Antalya, Turkey, October 3, 2018
Work In Progress Competition
!f Istanbul International Independent Film Festival
Istanbul, Turkey, September 17, 2019
Competition Selection
Seattle Turkish Film Festival, Seattle, United States
Competition Selection
Our Sponsors and Partners